Update 26th October – 2017:
A memorandum of understanding (MoU) was signed between University of Bristol and Xishuangbanna Tropical Botanical Garden (XTBG) on October 25. As representatives of the two sides, Prof. Paul Jonathan Valdes and Prof. Chen Jin signed the agreement.
According to the MoU, the two sides will join hands to improve training and scientific research as well as plan for future projects together. They will also enhance exchange visits of researchers and students; jointly conduct studies on environmental change, variation of biodiversity, and conservation biology.
This is exciting news for all involved in this and future projects between both organisations. Soon we also hope to bring news about a similar tie up between The Institue of Tibetan Plateau Research, Chinese Academy of Science and the University of Bristol too! Watch this space.
Read more here:
XTBG and University of Bristol sign MoU
Prof Paul Valdes signs MOU with Xishuangbanna Tropical Botanical Gardens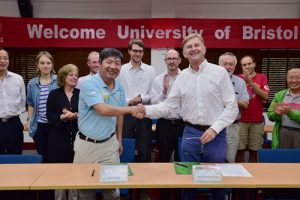 Prof. Chen Jin and Prof. Paul Jonathan Valdes
UMBRELLA team.