Fieldwork Part 3: Mangkang and Leiwuqi
Following our adventures in southern China (see our first blog post) and our gathering of the Tibet fellowship (see our second blog), we then set off for Mangkang and later Leiquqi.
From Lhasa, we flew closer to Mangkang, arriving at the airport of many names (Bangda, Changdu, Qamdo, Chamdo), a small village where our geologic sampling site would be. At last, the whole UMBRELLA team for Tibet was assembled, including Chinese collaborators from Guangzhou, Xishuangbanna, and Beijing.
We had a lovely surprise when we landed – snow! And of course, the part-Canadian of the group was outfitted in shorts. We all admired the snow, and at some point in our drive, we pulled over to take some photos… and were promptly pelted with snowballs from our playful drivers. Soon everyone joined in the fun and had a good laugh. We then stayed a night in Changdu, a small city just north of the airport, where we had a traditional wooden hotpot for dinner and rested before our week of fieldwork in Mangkang.
The first morning of the fieldwork proved interesting. First stop was to the local police station to get permissions and assistance from the local government before we headed off. Desperate for the loo, a handful of us ran off in search for one within the police complex. Somehow, this resulted in an impromptu TV interview in front of several cameras and a large group of reporters. They were surely interested and entertained by our travels to Tibet to explore the fossil flora and reconstruct past climate! Or at least that's what we thought…
We spent the first day scoping out the field. Not surprising for Tibet, the geology was… complicated. There were faults and folds and discontinuities, left and right, twisted in fascinating ways. It was certainly fun to walk through the section in this beautiful and remote place but didn't seem so promising in terms of finding fossil beds or organic sediments for biomarker analyses. Two points farther up the gully, our Chinese collaborators pointed out the two spots where they found nice leaf beds (see Tao et al., 2018, National Science Reviews), though from the biomarker perspective, we decided to continue our search.
The next day, we explored the other side of the valley and huzzah! A nice long section that looked promising for leaf fragments, pollen, and biomarker work – and hey, there even might have even been some datable ashes for us to work with. Some of us picked up our geological hammers and our golden shovel to get to work. We spent several days logging and sampling. Thankfully, we had some help from the locals to clear the face of the section, who ended up being mind-boggling fast and efficient, especially given the high altitudes, but in a tight competition with our PI and professional diggers Paul and Alex.
Meanwhile, some of the team continued working where we had explored on the first day, looking through the previously discovered fossil leaf beds for something new and exciting. A smaller party also went out scouting for new potential sites, climbing up and down the mountain sides. And they did indeed discover something new and promising. We all gathered together again at the new site. Given that one of the cars was blasting Queen, the site was christened by the name of the great British rock band. The Queen formation had something for everyone – pollens, carbonates, rich organic sediments, possible ashes – and what's that? Is that cycling? As a bonus to the site, we were able to stand, as opposed to climbing, along the section while we collected. We spent two days happily collecting samples.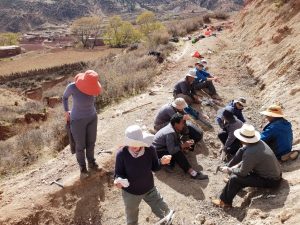 The people of Kajou, the small village nested in the valley where we worked, welcomed us and smiled at the weird group of hammer-equipped people walking around their fields. Before we left these sites, we were honoured to be invited to the house of the head of the village who showed us the beautiful decorations that took 2 years to be completed!
After our adventures at Mangkang, we hit the road again. We stayed in the small city of Changdu again on our way back through before heading up to our final location of the trip, Leiwuqi (which we lovingly caleld Luigi). The trip to Leiwuqi was a dangerous one up steep mountain roads which had clearly not been kind to many of its travelers (don't look down) but beautiful all the same.
Leiwuqi, a brand new spanking site, was set in a remarkable valley and we were incredibly lucky with the weather. Unfortunately, there were limited leaf beds for the the paleo-botanists to gaga over, but they found a nice valley with spot sample leaves to mull over. For biomarkers and pollens, on the other hand, there were samples gallore. The main section we spent our efforts on was over 100 m long and worked our way along over a couple of days. We also took samples at three other locations, one of which was near the main section and possibly contained an ash, and the other two where we simply took spot samples.
Well, that all now said and done, I have more samples than I know what to do with – a great problem to have!
Our time in Tibet was spectacular and we felt truly honoured for this opportunity to see this magical place with its breath-taking landscape, lovely people and amazing geology! As Bob has said, " you can leave Tibet but Tibet won't leave you!" Now that we've been back for some time, we really understand the meaning of this phrase.
Our fieldwork saw its conclusion in our final destinations: Chendgu and Ya'an, in Sichuan, where we spent a few days enjoying the time as tourists before heading back to the UK!