23th – 25th –  XTGB – Paul and Dan arrive – After a long journey and three flights from the UK both Paul Valdes and Dan Lunt joined up with the rest of the UMBRELLA team at the Xishuangbanna Tropical Botanical Garden, Chinese Academy of Sciences. No rest for the weary however, because the next day we were all locked in discussions about the latest fieldwork campaign and we compiled some of the latest fieldwork samples from the Bubeng canopy crane. This consisted of further preparation work on the samples to ensure a high standard of detailed preservation for future analysis as well as performing some initial CLAMP analyses. A further visit to the Bubeng site on the 25th was attempted to allow Paul and Dan to gain some experience of the crane operation and to collect more samples. However the weather was not opportune with persistent rain and wind meaning that it became unsafe for any crane operation. To fully illustrate how intense the conditions became our drone, although fully waterproof, could not make it beyond 20 meters vertically due to the sheer weight of precipitation falling on it. The rain did not stop us from further exploring the sub-traopical rainforest however it did produce ripe conditons favourable for an army of leeches! (see video below).
No Description
Exploration of the Bubeng site and leeches!
26th – 30th – North central Yunnan. Ash? – After some re-gigging of the fieldwork schedule it was decided that we should attempt a visit to a new potential site that we had not previously considered. Zhou Zhekun had suggested that this site might show some promise having worked on some sections previously.  Without knowing what to expect the team headed off towards north central Yunnan to inspect exposures at various locations throughout the region. After a day's journey from Xishuangbanna we arrived and quickly set to work before we made base camp inspecting a small outcropped section. The exact age of the section isn't known but it has been assumed to be of Miocene age. Jan Peter inspected the preservation potential of organic matter in part of the section suggesting that it did show promise for biomarker analysis. This was our first good sign that this area could potentially produce interesting results, especially if an accurate age determination could be obtained.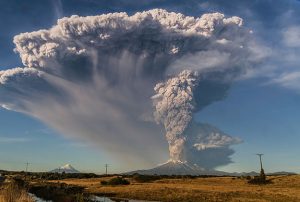 At another exposure, significantly, a suspected thin volcanic ash deposit layer was identified. Amongst other minerals ash beds contain small crystals called zircons which are formed in the magma chamber. Zircons can be radiometrically dated using the ratio of uranium to lead (U-Pb) allowing precise age determination of when the crystals were formed. This is important as we can get a measure of the oldest possible age for the deposit (by finding the youngest present in the sample) and in cases where the ash is primary (not reworked) this gives the age of the deposit. The dating of this potential ash bed will be fundamental to the elevation and climate story for this region and Yunnan as a whole. Another three exposures of the larger regional section were also identified with samples taken (at both high and low sampling resolution).
It is hoped that some of the distinct layering present in all the palaeolake sediments may even be indicative of processional cycles allowing analysis of climatic variability on orbital timescales.  In total over 100 samples were extracted and taken back to Bristol for Biomarker analysis, to XTBG for pollen analysis and to the Tibetan Institute for radiometric dating, playing to the strengths of these three institutions.  The elevation history of the Tibetan Plateau and southwestern China will certainly be re-written.
31st – Beijing meetings – After a long journey back to Jinghong the team made it to the airport for the 3 and a half hour plane journey to Beijing. Xu Qiang from the Institute of Tibetan Plateau Research (ITP) Chinese Academy of Sciences (where a lot of cutting edge research is taking place of the geology, uplift history and role of the Tibetan region) joined us.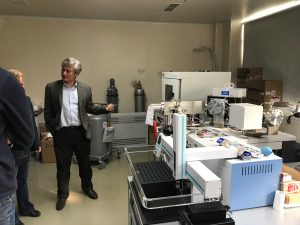 The next day we headed off to ITP to meet up with Ding Lin and his group for a tour of the impressive facilities and lab equipment they have and discussion about the forthcoming field campaign in Tibet and sites to target next year. Paul Valdes, Dan Lunt, Alex Farnsworth, Jan Peter Mayser, Ding Lin and Su Tao all gave talks on their latest findings. This layed the foundation for targeted discussions and refinement of methodologies, where to target future time and resources and best facilitate project outcomes. Xu Qiang was also able to take the potential ash deposit for analysis. Later after some interesting discussions we headed out to a fantastic banquet in one of the venues that was used for the 2008 Beijing Olympics. There we were treated to some delicious food, good company and the sharing of past fieldwork stories.
A Memorandum of Understanding was also finalised between ITP and the University of Bristol bringing together the expertise of both organisations and solidifying the close relationship that is developing in preparation for future collaborations.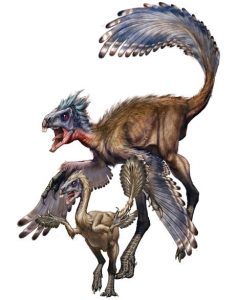 1st – IVPP meeting – We were also invited to give some talks on our current work at the Institute of Vertebrate Palaeontology and Palaeoanthropology (IVPP), Chinese Academy of Sciences. After a tour of the fantastic museum and seeing one of the first feathered dinosaur fossils that was discovered by members at the institute the team and Feixiang Wu set to work discussing how Bristol, XTGB, ITP can link up to further explore the links between changing topography and its impact on faunal and flora life in Asia. Another contact was also suggested while we were in Beijing we met up with Li Shihu at the Institute of Geology and Geophysics, Chinese Academy of Sciences. This was quite an important meeting as more samples from other sites were obtained for analysis as well as confirmation that there was an active volcano in the region where the potential ash sample was found.  This encouraged us to believe that we may have a viable way to constrain the age of that section.
By Alex Farnsworth (video by Jan Peter Mayser)